SOME RECIPE FROM ME
Nov 21, 2020
Hello, welcome to my website! I am Nurin Jaslina Binti Ahmad Shofee. Here,I would like to state that I have a hobby which is cooking. I really like to eat dishes from myself. A variety of simple and delicious dishes that I have cooked for family members. Among them are Mi Soto, Laksa, Tomyam and so on.Here I share some recipes that I often cook at home

Tom Yam
INGREDIENTS
Coriander Leaves
1 Medium Onion, Sliced
4 Red Chilies, cut into 3
Lime Leaf
3 lemongrass
Pes Asam Jawa
Pes Tomyam "Madam Pum" because this brand 👍
Chicken/ Meat / Shrimp / Squid
Carrot
Cauliflower
Baby Corn
Celery
​​Tomatoes, sliced 4
Mushrooms
INSTRUCTIONS TO COOK TOM YAM

First, Add water, 4 large onions, chilli in a pan and bring to a boil.
Then, add the tomyam paste.
Next, add the chicken and wait for it to boil until the chicken is a little soft.
Then add the beaten lemongrass, lemon leaves, carrot, adabi Javanese sour paste and other vegetables such as baby corn, cauliflower, celery.
At the end we add mushrooms and tomatoes.
Do not forget to add seasonings such as salt.
Stir for a while. And garnish with coriander leaves.
Laksa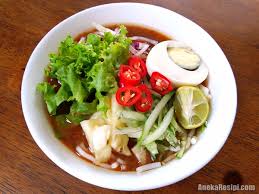 INGREDIENTS
Mee Laksa
2 kg of mackerel (*boil & separate the fish meat and bones)
large onion
2 thumbs of belacan
1 tablespoon ground chili
sour pieces
2 kantan flowers
1 bunch of Kesum leaves
Salt

DECORATIONS INGREDIENTS
Eggs - (boiled & sliced ​​2)
Salad - (sliced)
Cucumber - (sliced)
Onions - (sliced)
Chili - (sliced)
Lime - (slice 2)
INSTRUCTIONS TO COOK LAKSA

First, Boil the fish and the boiled water of the fish is kept to make gravy.
Then, Blend the fish fillet until it crumbles.
Next,The fish head and bones are blended and filtered .
Put the minced onion with belacan and ground chilli into the fish stew.
Add sour slices, kesum leaves and kantan flowers.
Add the finely ground fish, the coarse grind and the shredded fish only. Cook over low heat and let simmer.
Add salt and adjust the taste and concentration.
Can be served by placing laksa in a plate, pour laksa gravy on it. Sprinkle with sliced ​​ingredients and vegetables.
There you go, easy right?. Good luck on trying!.